Our Story
Since 2001, when we became part of Morgan Sindall Group we have grown organically, using our engineering expertise and long-term relationships to deliver safe, innovative and responsible infrastructure for public and private sector customers.
Our Purpose
Welcome to Morgan Sindall Infrastructure
Our customers trust our expertise and proven capability to deliver their projects in a responsible, safe, innovative, and ethical manner. Our expert teams are united by a collective belief that better engineered, sustainably designed, lower carbon and responsibly delivered infrastructure shapes a better social and economic future for all.
Whether we're enhancing water, wastewater or energy transmission networks, enabling better rail connections, keeping vital highways running, working 24/7 to maintain airport runways, or creating and maintaining infrastructure assets in complex and demanding nuclear environments, our approach is founded upon being a responsible business.
Alongside our philosophy of Perfect Delivery and 100% Safe, being a responsible business guides how we behave ethically, economically, socially, and environmentally.
Innovation
By empowering our teams to think differently, equipping them with the time, skills, and encouragement to explore ideas and challenge the status quo, we create a catalyst for innovations that support our customers and our ambitions. Enabling us to contribute to long-term social, economic, and environmental development throughout the UK.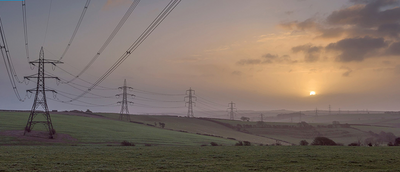 We strive to inspire and harness creativity by fostering a collaborative and supportive culture where curiosity and bold ideas are welcomed to help advance more efficient, safe, resilient, and lower carbon infrastructure.
Innovation within our business is also enabled through a unique programme that looks at behaviours as well as providing our people with the tools and techniques to unlock ideas.
We have a network of 150 innovation leaders who are embedded in our teams and assist colleagues in taking innovative concepts and ideas from the drawing board to real-world deployment.
Responsible Business
We understand and advocate the importance of behaving with integrity and respect throughout every aspect of our business and being cognisant of the impact we have on the communities and the environment. This is embedded - economically, socially, and environmentally – within our culture and underpins everything we do. Being a responsible business is a good business.
Our commitment to being a responsible business informs all the decisions we make, providing confidence to the people who work for us, live around our projects, or do business with us, that we will always endeavour to do the right thing and foster positive, constructive relationships.