There are four divisions within Diamond.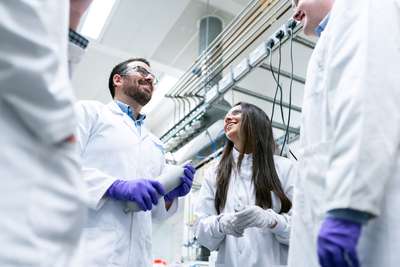 CEO's Office

The Chief Executive's Office incorporates the Communications, Industrial Liaison and Health & Safety Groups, as well as other specialist expertise in providing support to the Chief Executive.
---
Finance and Corporate Services
Finance and Corporate Services incorporates the business support functions including Commercial, HR, Finance, Procurement, IT and administrative support for Diamond's site and business services.
---
Science Division

Science Division is responsible for the design, construction and operation of the Diamond beamlines. There is extensive consultation with the research councils and the wider scientific community to ensure that the beamlines meet their needs for synchrotron light. The Science Directors are also responsible for developing world-class in-house research and development programmes to attract the best scientists and to ensure that the research instruments remain top-class.
---
Technical
The main responsibility of the Technical Division is generating the X-rays used by the beamlines. The Technical Division is also responsible for the buildings: the experimental hall and the office block plus any other laboratories, assembly and test buildings required.