Interpretation of new CGG 3D seismic data in the Faroe-Shetland Basin has revealed hydrocarbon potential along the northern extent of the Rona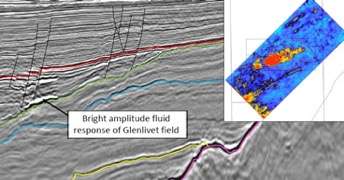 Ridge - one of the least mature producing regions on the UK Continental Shelf (UKCS).
Geological, geophysical and operational challenges associated with the presence of intrusive and extrusive volcanic rocks linked to the Icelandic Plume, proximity to the Shetland Islands and strong water currents have historically limited exploration in this area.
To address this in 2018/19 CGG undertook a MCNV 3D seismic imaging survey covering 3,600 km² of the North Rona Ridge and adjacent basins. The data were acquired with a rich-azimuth acquisition configuration consisting of dual triple-source vessels with significant lateral offset, which, when combined with advanced imaging technology, offered enhanced illumination underneath the volcanic intrusions present in the area and increased sampling to improve fault imaging.
The Glenlivet field, covered by the survey area, is shown imaged with the new data.