Early careers
Tilbury Douglas is passionate about recruiting and developing our own talent for the future.
We have teams of professionally qualified colleagues who will support you to help you reach your full potential. We work with a range of different clients delivering exceptional projects across a range of our business units.
It is our people that make Tilbury Douglas Construction a success. We believe that our inclusive culture encourages new ways of thinking, enabling us to innovate whilst maintaining our resilience. We value and celebrate all individual differences and look forward to receiving your application.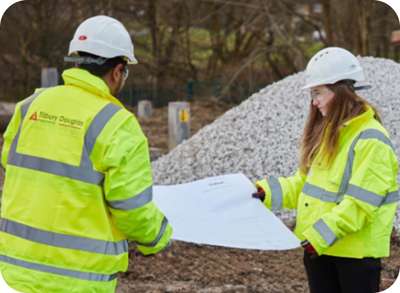 Our apprenticeships
Tilbury Douglas offers a range of different apprenticeships across civil engineering, construction management, mechanical & electrical, quantity surveying to business admin.
Apprentices will study for a Level 6 construction related apprenticeship, with qualifications achieved through a combination of college work and gathering work-based experience and evidence.
The apprenticeship can be up to three years (depending on which level apprenticeship), where you will attend a local college/apprenticeship provider part time and the remainder of your time will be spent on site learning the practical elements of your role.
You will be supported on a day-to-day basis by your line manager who is committed to ensuring you develop and receive the support you need. You'll be part of the wider Tilbury Douglas Apprentice Community which is comprised of the cohort you will be joining and our apprentices who joined the year previously.
Graduates
Our two-year Graduate development programme with Tilbury Douglas will be tailored to provide you with the technical skills required to fufill your role as a Civil Engineer, Site Manager or Quantity Surveyor.
The company will give you responsibility in these roles and for these you will also require skills enabling you to work with or manage customers, colleagues and staff. Personal development training will vary subject to your role and the project(s) upon which you are working.
Your plan will be individual and shaped by the needs of your role and professional development, and the Learning and Development team will develop and continually review your training programme to ensure that it considers new technology in use at Tilbury Douglas and fits your development in the organisation.
A key theme across our programme is your engagement with communities outside of your day-to-day working environment. While working on sites you will host visits from local schools, colleges, universities and communities. We also need you to support our work with careers events at local schools and colleges.
Year out placements
A year out placement can be offered to students who are studying a construction related degree where a sandwich/year in industry placement is required. Our year out placements provide a fantastic opportunity to gain some quality site experience.
You will be performing a 'real' job, but will be fully supported by our project team to provide you with breadth of experience and develop you while you are with us.
If you enjoy your placement with us there is an opportunity for us to also sponsor you for your final year and then join us as a graduate!
Summer placements
Summer placements are an ideal opportunity for those studying towards a construction related qualification to gain some hands-on site experience. Our summer placements can last up to three months and normally commence in June each summer.
You will be working on a live construction site, supported by our professional team who will support you to gain some excellent experience whilst also massively contributing to one of our projects.
Women in construction
Tilbury Douglas aims to provide an inclusive environment that promotes and demonstrates gender equality, amplifying the progress of women within our organisation.
During 2023 we plan to:
Educate and attract more women into the construction industry
Raise awareness and education of menopause and roll out a menopause policy, as well as training for senior management
Promote health and wellbeing for women through creation of materials and support for women
Create clearer pathways for roles
Provide better understanding, support, and processes for pregnancy/paternity, fertility and baby loss
So far, we've:
Set up a new employee network for women called Women @ Tilbury Douglas
Held a seminar for all employees on World Menopause Day
Sourced female specific personal protective equipment (PPE)
Partnered with Cradle, a pregnancy loss charity, who will support our pregnancy/paternity, fertility and baby loss focus group
Created a women in construction video (see above)
Benefits package:
Competitive salary
26 days' annual leave
Private medical insurance
Life assurance
Defined contribution pension scheme matched up to 8%
Two days volunteering opportunities
Flexible and Agile working (dependent on your role)
Employee Assistance Programme
Professional membership fees
Flexible Benefits scheme