Ready to start your own Stantec story?
How often do you get to see a drawing become a reality? Have you ever touched, seen, or walked through something you helped design? We experience this every day.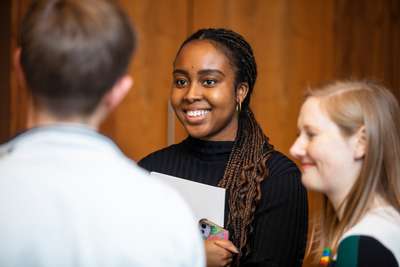 At Stantec, you could help develop inventive and sustainable solutions that meet our clients' needs and touch every aspect of people's lives, from the roadways and bridges you travel on, to the schools you once attended and the water you drink.
Join us and be a part of a team that designs with community in mind.
Redefine your personal best
Designed to support you with learning, networking, and mentoring opportunities, Stantec's well recognised and accredited Professional Development Programme sets a standard for training and progression.
As a member of our supportive early careers community you will be trained and mentored through a graduate programme to help you achieve your goals and obtain your professional accreditation.
This is achieved by combining core and technical training, shaped around your professional field and discipline. We offer a wide range of accredited training programmes, to best support you in gaining relevant professional qualifications to support your career.
You will develop skills, learn, adapt to change, and lay the foundations for a successful and rewarding career. Working together with your mentor and manager, you will explore your strengths and aspirations to shape your career path.
Our five to six year graduate development programme
Your Professional Development Programme includes graduate core training in your first three years. This provides an enhanced training period and a community to engage with throughout your initial Professional Development.
Once you've completed the three-year graduate core training period, you will continue to receive training and mentorship tailored to support your journey on becoming professionally chartered or qualified. The focus is now even more on you, as you complete your professional foundation and start to shape and plan your future career path.
"It's great that as part of the graduate programme you can sign up for the Institution of Civil Engineers (ICE) and your annual membership is covered."

Gurveer Jutte, Graduate Civil Engineer