For the third-consecutive year, global design firm Stantec was named to the 2022 Bloomberg Gender-Equality Index (GEI), a performance ranking of public companies committed to transparent gender-data reporting and advancing women's equality in the workplace. Based on five separate areas of data disclosure, the index is comprised of 418 companies spanning 45 countries in 11 different business sectors. Recently, Stantec was the first company globally to link its sustainability-linked loan to Bloomberg Gender Equality Index scores.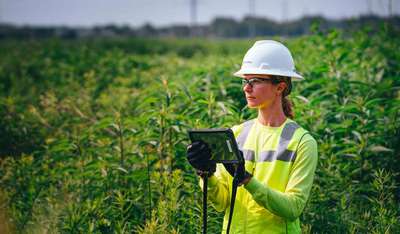 "Our continued progress on the Gender-Equality Index isn't just a complement to our focus on creating a balanced workplace – it's a genuine scorecard for our company that drives cultural, operational, and financial programs," said Asifa Samji, Stantec Chief Human Resources Officer. "Every organisation needs accountability in pursuing equity for its team members, and we're grateful for both the recognition and responsibility we enjoy for being on the index for a third consecutive year."
Companies included in the 2022 GEI voluntarily released their gender equality-related data in the following key areas: female leadership and talent pipeline, equal pay and gender pay parity, inclusive culture, sexual harassment policies, and pro-women brand. Organisations scoring above a globally established threshold are named to the GEI and results are published on the Bloomberg Terminal.
Reflecting Responsibility, Fiscal Alignment
Stantec's participation in the GEI survey reflects its commitment to gender equity demonstrated in both social and financial commitments. Through agreements established in 2021, Stantec's financing strategy is aligned with its continued commitment towards ESG leadership. Any savings realised on Stantec's Credit Facilities from achieving identified goals will be directed toward activities or organisations that have a positive influence on environmental or social matters. Specifically, The Bloomberg Gender-Equality Index score is linked to certain social pillars around gender equality, pay equity, leadership diversity, and inclusive culture, among others. Stantec is the first company globally to adopt the gender equality index as a sustainability linked loan metric.
Additional areas of firm commitment include the company formally endorsing the Women's Empowerment Principles, a project of the United Nations Global Compact, and active involvement in the Global Compact Network Canada's Target Gender Equality Ambition Accelerator.
Advancing Equality
Stantec's placement on the GEI follows a series of relevant company initiatives, activities, and reports on the organisation's culture and workforce:
Representation at Every Level – On average, 34 percent of Stantec employees are female. Within the leadership structure for the organization, 33 percent of Stantec's current board members are female and 38 percent of the C-Suite positions are held by female leaders, including two C-suite women of color.
Engaging Culture – Currently, there are 39 Women@Stantec regional employee resource group chapters, which are company-sponsored grassroots teams associated with company offices to promote gender equality and career development.
Industry Reputation – The GEI is the most recent in a series of industry recognitions for Stantec's attention to gender equity and/or advancing the role of female team members in the workplace. In 2021, Stantec was named to Forbes' list of the World's Top Female-Friendly Companies following a previous distinction in 2020 on Forbes' list of America's Best Employers for Women.