The QinetiQ Early Careers recruitment process runs annually, September to December. All applications must be submitted by mid-November to be considered.
If a relevant candidate is not found by December a second window will open from January through to April. Please check back in January to see remaining opportunities.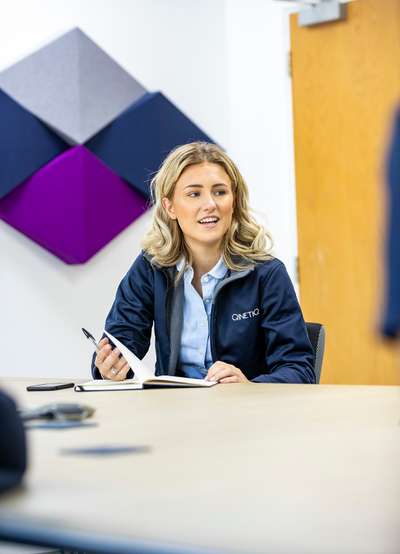 Initial Application form
It is easy as 1.2.3! Simply click to apply, complete our short contact detail form and then upload your CV & cover letter.
Stage 1: The Journey
You will be educated about the role you have applied for and the discipline it sits within the QinetiQ organisational structure. You will also have the ability to see other opportunities that sit within this discipline. If you are interested & meet the requirements, you have the ability to request for your application to be considered for these other roles.
Stage 2: Manager Screening
All successful candidates will be sent to our hiring managers – with the roles you have requested to be considered for and your application.
They will progress candidates based on the quality & relevance of their application.
Stage 3: Killer questions
Created to test you on the crucial skills you need for the role – you will be asked to complete killer questions that will be recorded or delivered by a live panel.
You will also take part in completing a mixture of HireVue's game based assessments and non-timed written tests. You will be competing directly against fellow applicants, the top 10% in each role will progress to stage 4.
*If you require any accommodations due to a disability, please make sure you tick the accommodations button. This will not affect your application but will allow us to tailor this step for you!
Stage 4: Virtual Assessment Centre
Get to understand everything QinetiQ! Carefully designed to immerse you in who we are, our virtual assessment centres will allow you the opportunity to meet our early careers community, business directors, future managers and many more.
Balanced alongside a group and solo activity – you will leave knowing what it takes to be part of QinetiQ.
Make your application stand out
Stage 5: Live Interview
We will invite all successful candidates from stage 4 to attend a live interview at one of our QinetiQ sites. You will be immersed in the QinetiQ experience, which includes; a face to face interview, site tour & meet the team.
Stage 6: Offer
Congratulations! If you have made it to this stage then you have been successful in your application and shown us why you are the best for your chosen role.
Our Early Careers & HR team will be in contact directly to talk about contracts and next steps.